Let Our Family Move Your Family
Peachtree Movers – meeting Atlanta's moving and storage needs since 1975
Peachtree Movers has been family-owned and operated since 1975. The company started as a commercial moving company and eventually expanded into residential moves. Peachtree is now run by brother-sister team, Jim McKinney Jr. and Julie Hughes, who put the experiences they gained working for their father, one of the original owners, in a variety of roles to use to help Peachtree create the best moving experience possible for our customers.
After nearly 50 years in business, we know that it's not just about the move; it's about creating relationships that last. Those lasting relationships extend to our employees who stay with our company year after year. This commitment to our employees has helped Peachtree truly embody the family business that we are.
Over the years, Peachtree Movers has built a stellar reputation for providing top-notch moving and storage services to Atlanta and the surrounding area. We've been serving Atlanta since 1975 and haven't stopped innovating in terms of how to best serve our customers' needs with creative commercial and residential solutions, as well as secure onsite storage facilities. We continue to create and improve upon processes that have become the industry's gold standard for organized and efficient moves, and we pride ourselves on providing a customized, personal experience for every move – no matter how big or small.
Peachtree Movers is dedicated to making our community a better place.
Through company donations, Peachtree Movers supports the Grove Park Foundation. Grove Park Foundation is committed to holistic neighborhood revitalization to improve the quality of life in the Grove Park neighborhood in Northwest Atlanta.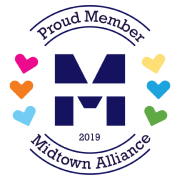 We are partnered with Midtown Alliance, a non-profit coalition of leading business and community leaders. Together, our mission is to improve and sustain the quality of life for those who live, work, and play here.
"They were not only on time, they were early! And, boy did they work!! Their efficiency and speed helped us complete the move much quicker than all other prospective moving companies estimated. Extremely pleased!"
Office Move
|
Roswell, GA
Thanks! Your 2 crews did a fantastic job! They were extremely professional and courteous. I'm glad we selected Peachtree Movers.
Christine S
|
Dunwoody, GA
"They put down protective coverings to protect my new flooring and used extreme care in moving things into the house and into the rooms needed. I felt they provided me with excellent service and treated my belongings as if they were their own.
I would definitely use Peachtree again and will certainly tell anyone who asks about the great experience I had."
Atlanta's Choice for quality moving services since 1975
Peachtree Movers is a family-owned moving company in Atlanta that has been providing the highest quality services to local residents for nearly 50 years. We take pride in our commitment to provide you with stress-free, hassle-free moves and will work tirelessly until your move is complete!
Packing & Unpacking Services
Our packing crews can pack your whole house or just a few rooms. We bring all the packing supplies and take special care of your fragile items. Our unpacking services are a great way to get set up after moving in.
Moving Supplies
We offer a full range of professional moving supplies, from boxes to bubble wrap and beyond!